Cardiovascular Technology, AAS
The Eastern International College mission's foundation is in providing an individualized and student-centered academic experience to its students who are enrolled in allied health programs.  The College offers programs that prepare students for successful entry into a variety of medical professions and, as defined in Eastern International College Strategic Plan of 2017-2021 and reiterated in its Strategic Plan 2022-2025, it seeks to expand program offerings at the advanced baccalaureate, master's, and doctoral levels.
Recently, the College's administration has made the decision to no longer accept prospective students into the CVT Associates Degree Program, beginning with the spring 2022 semester.  As such, this means that the College will 'teach-out' all the current students of the CVT Program. 
The Program's accreditation body, CAAHEP (Commission on Accreditation of Allied Health Education Programs), was immediately informed of this decision.
As current students, this institutional decision will NOT impact your continuance and completion of the CVT Associates Degree.  You should continue to register for classes and take coursework toward your externship and you will graduate from the Program with the CAAHEP accreditation. 
If you are currently NOT registered for classes, you must register for the summer 2022 semester to remain in the CVT Program to matriculate towards graduation.
The College will maintain CAAHEP accreditation and complete the teach-out process by May of 2024.
Please address all questions and concerns to the Dean of Academic Affairs at  ruhina.najem@eicollege.edu
The Eastern International College Registrar Office, that is responsible for the custody of, continued access to, and final disposition of all student records, is the permanent location and final custodial repository for the Associates Degree in Cardiovascular Technology Program student academic records.  
Student transcripts will be available, under the criteria of permanent records, from the Registrar's Office located at 684 Newark Avenue, Jersey City, New Jersey 07306.
The Cardiovascular Technology Program (CVT) at Eastern International College prepares the student to perform non-invasive diagnostic examinations of the heart and/or blood vessels at the request or direction of a physician in Adult Echocardiography.
The CVT program teaches the student the essential theoretical and hands-on knowledge to compete for entry-level positions in the field. The Associate Degree in Cardiovascular Technology programs at Eastern International College in Belleville and Jersey City are programmatically accredited by the Commission on Accreditation of Allied Health Education Programs (CAAHEP). Programmatic accreditation is not required for employment in many cases, but its existence is a further indication that the program meets the standards of the profession, so it could enhance employment opportunities for graduates.
The programmatic accreditation can allow graduates to sit for some credentialing exams immediately upon graduation. The program has a total of 66 semester credits, with 20 credits in general education and 46 credits in major course work.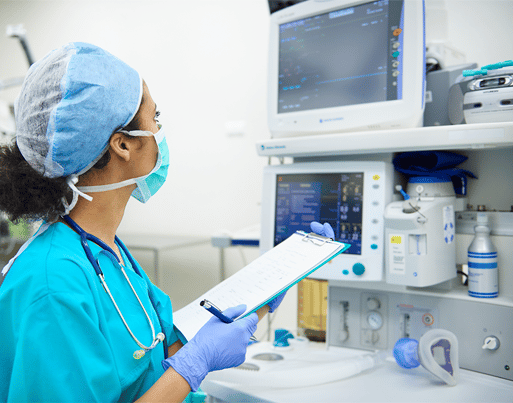 program learning outcomes
The CVT graduate will demonstrate entry level skills, knowledge and behavior competence in procedural and clinical functions in non-invasive cardiovascular technology focusing on non-invasive adult echocardiography.
Demonstrate knowledge of cardiac anatomy and physiology, cardiovascular nomalies and cardiac pharmacology
Demonstrate knowledge of legal and ethical standards in the practice of thecardiovascular technology profession
Perform effectively procedures covered in non-invasive cardiovasculartechnology in adult echocardiography and vascular sonography
Demonstrate proficiency in patient care including vital signs and patient safety
Demonstrate competency in obtaining, recording and printing scanned images
Demonstrate professional conduct in the workplace and/or externship site
Demonstrate effective interpersonal communication and cultural sensitivity when dealing with patients and the healthcare team
Apply ethical and legal standards in dealing with patient information and in communicating these information to the healthcare team
General Education Coursework
| | | |
| --- | --- | --- |
| Course Number | Course Title | Semester Credits |
| BIO 101 | Anatomy & Physiology I | 4 |
| BIO 102 | Anatomy & Physiology II | 4 |
| ENG 101 | English Composition | 3 |
| MAT 204 | Fundamentals of Statistics | 3 |
| PSY 101 | General Psychology | 3 |
| SPC 101 | Interpersonal Communications | 3 |
| Total | | 20 |
| | | |
| --- | --- | --- |
| Course Number | Course Title | Semester Credits |
| CVT 101 | Introduction to Cardiovascular Technology | 2 |
| CVT 104 | Patient Assesmment | 2 |
| CVT 105 | Pharmacology | 2 |
| CVT 106 | Physics and Instrumentation | 3 |
| CVT 107 | Physics and Instrumentation II | 3 |
| CVT 200 | EKG and Interpretation | 4 |
| CVT 202 | Pathophysiology | 3 |
| CVT 203 | Vascular | 4 |
| CVT 204 | Echocardiography I | 4 |
| CVT 205 | Echocardiography II | 4 |
| CVT 206 | Test and Registry Review | 1 |
| CVT 210 | Externship | 14 |
| Total |   | 46 |
ADMISSIONS
Entrance into the EIC Cardiovascular Technology program includes being interviewed by your assigned admissions representative in order to see if you're a good fit for our program. Applicants must also take the Accuplacer Exam, which is designed to test your reading, sentence skills and mathematics abilities, unless otherwise specified as exempt. Learn more about EIC's admission requirements and technical standards for the Cardiovascular Technology degree program.
Take a tour of our Jersey City and Belleville campuses, or contact us to learn more about our available allied health academic programs.