Eastern International College's BSN degree program prepares graduates to assume nursing positions in a variety of settings within the health care delivery system and to provide nursing care collaboratively with other health care professionals. 
Eastern International College's BSN pre-licensure degree program is approved by the New Jersey Board of Nursing and prepares students to take the National Council Licensing Examination for Registered Nurses (NCLEX-RN). https://www.njconsumeraffairs.gov/nur 
The General Education and major nursing courses are integrated throughout the curriculum. They provide the competencies necessary for critical thinking; effective communication; scientific and evidence-based decision-making, clinical judgment, and practice; and cultural sensitivity to provide care to diverse populations across the lifespan.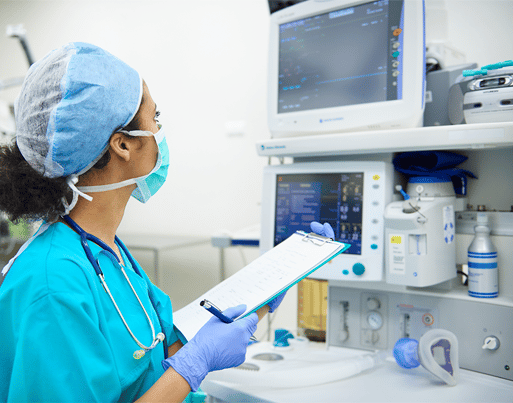 program learning outcomes
Upon completion, the graduate of the Bachelor of Science in Nursing will:
Synthesize knowledge gained from comprehensive and focused assessment findings to accurate clinical judgments and decision making.
Incorporate evidence-based knowledge and critical thinking into culturally appropriate promotion of health and the prevention of illness or complications for individuals.
Use patient care technologies and information systems in the delivery of patient care to optimize patient outcomes.
Incorporate ethical, legislative, and professional concepts into patient care with an emphasis on patient advocacy.
Communicate and collaborate effectively with colleagues, individuals, families, and communities to provide safe and culturally sensitive nursing care.
Incorporate leadership concepts and quality improvement approaches in professional practice and measurement of patient and nursing outcomes.
Engage in self-directed, life-long learning.
General Education Coursework
Course Number

 Course Title

Semester

Credits

ENG 101

English Composition I

3

ENG 102

English Composition II

3

ENG 301

Early American Literature

3

ENG 303

Scientific and Technical Writing

3

IFT 101

Computer Skills

3

COM 201

Interpersonal Communications

3

NUT 101

Nutrition

3

BIO 101

Anatomy and Physiology I

4

BIO 102

Anatomy and Physiology II

4

BIO 201

Microbiology

4

MAT 103

College Algebra

3

MAT 204

Fundamentals of Statistics

3

CHE 101

General/ Organic/ Biochemistry

3

PSY 202

Developmental Psychology

3

SOC 301

Cultural Diversity

3

PHI 401

Bioethics

3

HEA 402

Global Health

3

HEA 403

Women and Health

3

 

Total General Education Credits

57
Total Program Credits = 120 Semester Credits
Course Number

Course Title

Semester Credits

NUR 101

Introduction to Professional Nursing

3

NUR 102

Nursing Fundamentals

6

NUR 103

Health Assessment

3

NUR 104

Nursing Pathophysiology

3

NUR 106

Nursing Informatics

3

NUR 201

Adult Health I

6

NUR 202

Adult Health II

6

NUR 203

Pharmacology I

3

NUR 204

Obstetrical Nursing

3

NUR 205

Pediatric Nursing

3

NUR 207

Pharmacology II

3

NUR 302

Mental Health Nursing

3

NUR 303

Population-Centered Health Care in the Community

3

NUR 306

Nursing Care of Geriatric Patients

3

NUR 307

Nursing and Evidence-Based Practice

3

NUR 406

Leadership in Nursing

3

NUR 407

Professional Nursing Capstone

6

 

Total Program Major Credits

63

                                        Total Program Credits

120
Total Program Credits = 120 Semester Credits
ADMISSIONS
Take a tour of our Jersey City  campus, or contact us to learn more about our available allied health academic programs.